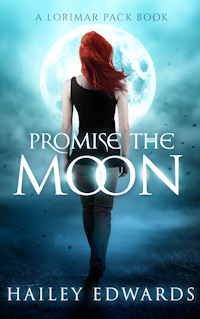 PROMISE THE MOON IS NOW AVAILABLE!
Lorimar Pack, Book 1
War is a constant threat on Dell Preston's horizon. As beta of the Lorimar pack, her job is to maintain the peace on the new border between Faerie and Earth at all costs. Even if that means playing nice with her ex,Isaac, the fae who savaged her wolf's soul, and Enzo Garza, the flirty witch who ought to be focused on building up their magical defenses instead of tearing down the walls around Dell's heart.
Butler, Tennessee is a pinprick on the map with a diverse population of supernaturals. It's also chockful of humans who are unaware of the magical rift bruising the sky or the otherworldly insurgents raining down into their zip code.
A local fae's disappearance catches Dell's attention, but she dismisses it as an isolated event. Until it happens again. Unable to ignore the strange happenings in her town, she begins an investigation that uncovers so much more than a simple rash of kidnappings.
Now Dell finds herself at the sharp end of a pointed ultimatum. Find the missing and return them to their families or get ready for prime time. Botch this job, and forget coming soon. The war will become tomorrow's featured attraction instead.
 Wolf at the Door (Lorimar Pack #2) is now available for pre-order! amzn.com/B01M4OF54I
---
Haven't met the pack yet? Why not start with Dead in the Water? You can grab a FREE copy from Instafreebie.https://www.instafreebie.com/free/Wflkv
---