I laughed so hard at this. Easily the best thing I've seen this week.
But as good as that one is, it still can't beat
"MEDIEVAL LAND FUN-TIME WORLD" EXTENDED TRAILER — A Bad Lip Reading of Game of Thrones
Welcome to WordPress. This is your first post. Edit or delete it, then start blogging!
I am excited to announce that A Heart of Ice is now available as an audiobook!
If you've ever wanted to hear some of the Araneae clan names pronounced, this is your chance.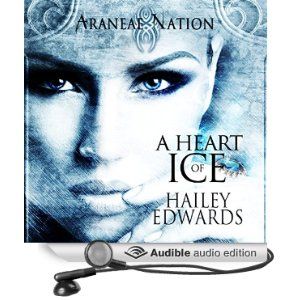 Some secrets are best forgotten.

Araneae Nation, Book Five
Fresh from the battlefields of Erania, Marne rides south with Edan, headed for the city of Beltania. Among the Mimetidae guards accompanying them is Asher, who's been a thorn in her side since the day they met. He's rude and abrasive…yet he was the first to volunteer as escort.
Marne dreams of a fresh start where no one knows who—or what—she is. But first, they must cross the veil. Rumor has it spirits haunt that grim stretch of road, and unwary travelers who enter are never heard from again.
Veil or no veil, Asher is honor bound to see Marne safely to her new home. Though truth be told, Marne leaving Erania is the last thing he wants. This journey is his final chance to convince her distance will only make his heart grow fonder.
When Edan is lost to the mists, Marne is trapped in a strange land with no allies—with a man who draws her closer every day. Closer to her heart, and her secrets. Secrets she must reveal if they are to save the one man bent on tearing them apart.
Warning: This book contains one heroine willing to fly into the face of danger and the hero who gives her heart wings. This adventure is BYOM, Bring Your Own Meal. Trust me, where we're going, takeout is to die for. Literally.
Amz: http://amzn.to/1zE91il
B&N: http://bit.ly/1yux956
REVIEW ARCS ARE NOW AVAILABLE!
If you're a reviewer or blogger interested in reading and reviewing Heir of the Dog, please use my website's contact form to reach me. Tell me your format preference, and I'll be happy to email you a copy of the book
After the holidays were done and I got the chance to sit down and get back to work, I noticed this.
A HUGE thank you to everyone who bought a copy of Dog with a Bone. I appreciate all your support in making the start of my first self-published (series) a success. The second book, Heir of the Dog, will release next month on January 30th. I'm seriously biting my nails over here, hoping you'll all enjoy it just as much as the first.
Today I'm participating in Mistletoe Madness on That's What I'm Talking About.
There's a contest happening for some of my print books in the Araneae series and swag, plus I've written a short scene from Rhys's POV.
Also? A Hint of Frost, the first book in the Araneae Nation series, is still free for anyone who hasn't picked up their copy.
Amz: http://amzn.to/1yhfUI4
B&N: http://bit.ly/1rJxYEy
Kobo: http://bit.ly/1FGGISp
iBooks: http://bit.ly/1B2UPDm
Today is my day over at That's What I'm Talking About.
I've written a short Winter Solstice themed scene from Rhys's point of view. I hope you'll swing by and check it out. Make sure you check out the other posts and enter to win!
Amazon – http://amzn.to/1tBzHLY
B&N – http://bit.ly/1rJxYEy
iBooks – http://bit.ly/1B2UPDm
Kobo – http://bit.ly/1FGGISp
Faerie teeters on the brink of war and the mortal realm swells with fae refugees desperate to escape the bloodshed. As a half-blooded fae, Marshal Thierry Thackeray has a stake in the outcome of both realms and isn't afraid to knock a few heads together if it keeps the peace.

When her father goes missing, the only hope of negotiating a truce between the light and dark fae vanishes with him. Eager to avoid another Thousand Years War, the Faerie High Court reaches out to the one person they believe can track him down—the daughter who shares his curse.